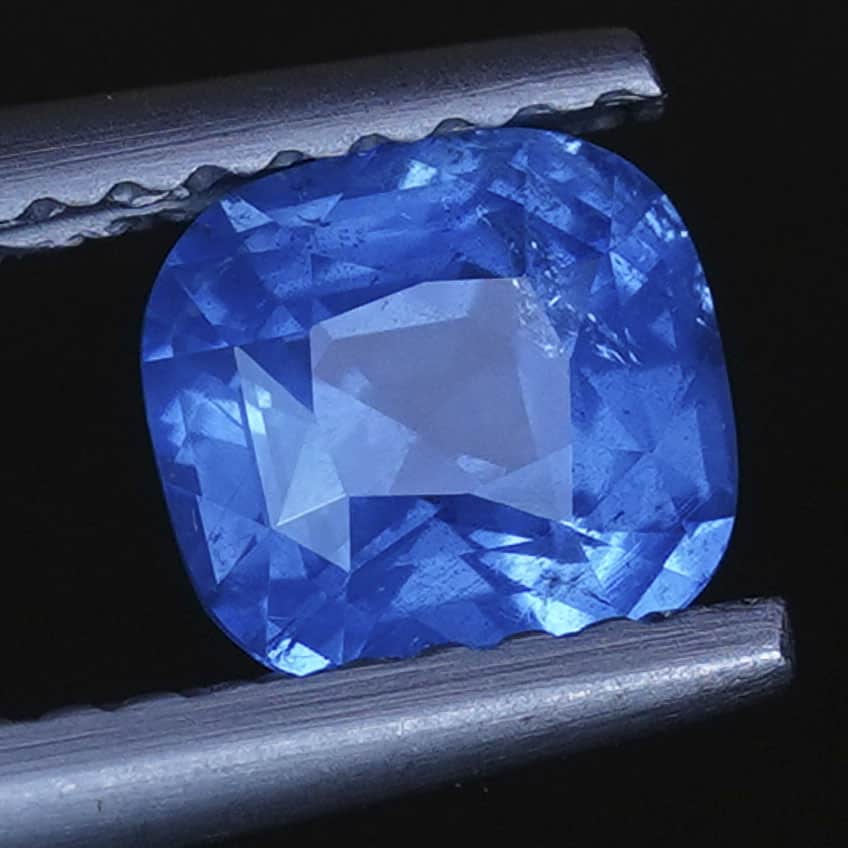 Cobalt Spinel from Vietnam, has for many gemstone collectors been the Holy Grail of the ultimate stone. Unforgettable to behold, and unbelievably rare to find particularly in larger, clean sizes – this material has been collected and hoarded for years. Recently a new find of Cobalt Spinel has come to market, hailing from the beloved Mahenge, Tanzania gemfields. This material has added a lot more possibility for people to own a Cobalt Spinel. Only a small fraction of the material approaches the vibrant quality of the Vietnamese material. We have worked carefully to curate an offering of premium quality Mahenge cobalt spinels, gleaning the best of the best from the parcels we find coming to the Bangkok markets.
Mahenge Blue & Cobalt Spinels
A PRIMER: WHAT WE KNOW SO FAR
For Collector's, Connoisseurs, Gemologists & Jewelers
Silently the trickle of intense fine blue spinels increased. Bangkok's gem labs recorded a pick-up in pace for submittals—the intake numbers seismically recording events half-a-world away. The deposit in Mahenge awoke in 2021¹. Whisper and rumor circulated in Bangkok, Beruwala and Chanthaburi regarding intense blue cobalt-spinels. Yet only a handful of gems made it to market. Finally, in the first and second quarter of 2022 the pace picked up to become a very modest, yet regular flow.
Despite the SSEF, JCK and IGI reporting the news in mid 2022, very little of material was publicly seen until the recent 2023 Tucson gem show. There, a modest quantity of fine pieces were available from several dealers, with exceptional color pieces being keenly sought and often sold before the show between dealers. Consequently, the Mahenge Cobalt spinel's range of colors and characteristics are little understood, and as of yet are un-codified, as are the finer points of connoisseurship and value.
Color Types
Mahenge cobalt spinel is the superlative yet small part of a wider-color-series that runs from unremarkable non-cobalt pale grayish-blues, to medium and intenser blues, all the way to dark blue with closed-up tones.
In the middle of the range as the cobalt intensifies and achieves ideal and harmonious balance with other chromophores, the color 'pops' as it becomes ideal magic-saturation of blue. This intense yet bright
sometimes with greenish modifiers, to pale and medium blues that are still yet firmly outside of the cobalt-spinel color range1.  as we past the optimal ideal-color conditions.
Clarity
Within the range of colors, there is a predisposition for different characteristics regarding diaphenity and overall brilliance, sleepiness or "glow". The paler materials tend to be very bright and clean and can sometimes show a predisposition for slight color-shift. The brightest part of ideal colors often are accompanied by a soft glowing silk, that non-unlike Kashmir, can help give the gem a color "glow".
As the Mahenge cobalt spinels intensifies it starts to darker again, it often runs cleaner in terms of foreign mineral inclusions, but also shows a higher tendency to crack.
Though The Looking Glass
Under microscope we see lamellae, interference colors, 'silk', apatite and zircon crystals, and in the appendix we offer the first publicly available comprehensive set of Mahenge cobalt photomicrographs. Pls message Oke Millett for a full set of Mahenge Cobalt Spinel photomicrographs.
Origin Opinions
As with all new gem deposits, industry stakeholders including gem labs have to adapt to new developments, obtain samples and adjust their origin opinions accordingly. Generally, the larger the deposit, the faster and greater the supply, and the quicker the labs can adjust.
With slow and low-yield new-finds, the timeframe and ease-of-building reference-collections is both longer and more difficult, and thus the likelihood for origin-opinion error is both protracted and greater—and Mahenge cobalt spinel is no exception. Any "Vietnamese cobalt spinel" lab-reports issued within this 'adjustment timeframe' where the lab was still scrambling to update their reference-collection, should be reviewed with a second opinion¹.
Looking To The Future
If the Mahenge deposit yields cobalt spinel over the medium or long-term, we are left with the tantalizing prospect of a larger supply of cobalt spinel in the market. This will no doubt be of interest to collectors and jewelry companies as the possibility of and also suites and pairs become realistic in smaller sizes.
Simon Bruce-Lockhart FGA DGA EG & Oke Millett GG
Chanthaburi, Thailand, March 2023

Acknowledgments: Geir Atle Gussias, Johnny Conde, Gavin Linsell & Chirachai Tangkatach.
Fine Silk In Cobalt Spinel - Photomicrographs Set #1