Rainbow Sapphire and Discovery and its staff have been in the colored gem and jewelry industry for a cumulative 80 years. Our buyer of ruby and sapphire is a professional gemologist working as a buyer and lapidary manager. Our garnet, spinel, tanzanite and tourmaline buyer works out of Arusha, Tanzania sourcing rough gems.
In addition to purchasing gems, we cuts gemstone in two facilities in Thailand and one in Tanzania, and also sub-contract out when needed. In house, we have a fully equipped gem-laboratory which includes all the standard gemological equipment and more – you can see pictures of gem-lab diagnostics and inclusions in the "Gem Notes" section.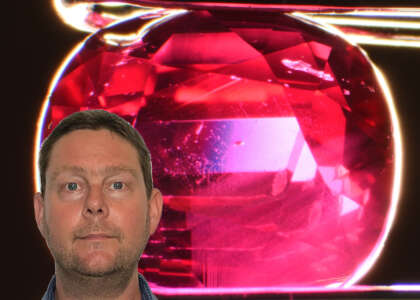 Simon Bruce-Lockhart FGA, DGA, EG
Experienced buyer of rough and cut ruby,  sapphire and other precious gems, on behalf of gemstone syndicates, televisions channels and more, Simon is a British gemologist who has been a professional resident of the City of Ruby & Sapphire, Chanthaburi, for nearly 20 years.
Oke Millett GG GIA
Having worked in the gems & jewelry business from his early teens in Vancouver,  Oke now works from the beating heart of Thailand's gemstone community. Oke is not only a GIA Graduate Gemologist, he also travels the world seeking-out buying opportunities and new products. When he is not on the road, Oke is an energetic and creative manufacturing jeweler, working to craft pieces that will sell well for our retail jewelers in the markets they serve.
Over the past 20 years we have appeared in both the trade-press and regular press. Enclosed is a few snippets, that feature our staff as woking in the ruby, sapphire and gemstone industry. Ranging from last year back to 2001, this a quick overlook at some of our work.
Other references and titles include the ICA's InColor, Jewellery News Asia, Solitaire Magazine and the Thai Gem and Jewelry Traders Association magazine. Also, press releases for the Chanthaburi Gem Association and Thaigem.com (now JTV).
* Any magazines or publications who would like high quality imagery, original content and more, please contact us.